Hello there, trainer! Welcome to PokéSun!
Login
or
Register
to join in with our family! From Pokémon Ultra Sun and Pokémon Ultra Moon discussions, to competitive play, battles and trades, roleplaying, general talk, and much more! Register today, and join us under the shining, tropical Sun!
Trainer's About Me Info
Gender:
Male
Location:
In team rocket head quarters.
My Characteristic:
None
Favorite Pokémon:
wobbuffet, lucario, garchomp, salamence, jolteon, magikarp, politoad and gliscor.
Trainer's Community Info
Recent Status Update:
Not set.
Status:

Offline

Time Spent Online:
5 Days, 12 Minutes, 2 Seconds
Members Referred:
0
Reputation:
5 [Details]
Trainer's PokéMart Info
Items:
This trainer has no items. (View All Items)
PokéDollars:
₪0
Trainer's Badges
This trainer has no badges at this time.
Giovanni's Signature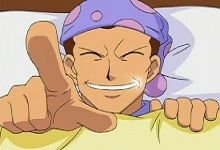 Waking up like a boss!